What is call back system?
Call back is a system that will help you make cheap international calls to countries where we have an Access number. Example India, UAE, Sri-Lanka etc. To use call back service you do to need a PC, Internet, 3G or any other complex infrastructure.
How it works?
It works with following simple steps
Login to your personal page and then add your Mobile / Landline number which you wanted to use for callback
To add a number first click How to call then go to Access Numbers and then click on Configure. You will see the option to Add Number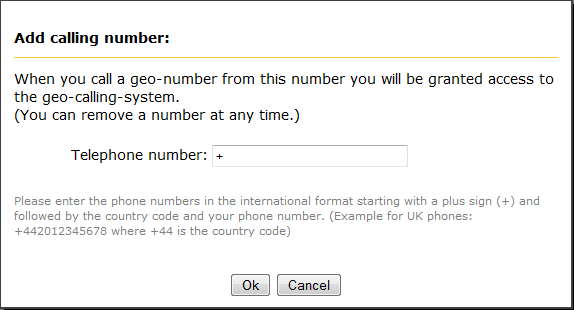 Make a call to our Callback service number 00442033189225 or 0031107449998 from the number that you have addedWait for the IVR. You will not be charged from your provider for this call since our Server does not accept any calls.
You will be disconnected in a few seconds. Then wait for the call from the Server
Attend the call which you receive and then follow the IVR.To check your balance press * buttonTo make a call enter the Number in international format and press # button. The call will be connected to your required destination number
Cost of the calls
The cost of the call will be settled via your Teleluft Account. Please note that callback calls have 2 parts, one incoming and one outgoing.
Example: A call from India to USA will cost as follows:
Call to India: 1.5 Cent
Call to USA: 1 Cent
Your total call cost: 2.5 Cents